Various Types Of Tapioca Starch To Suit Your Exact Needs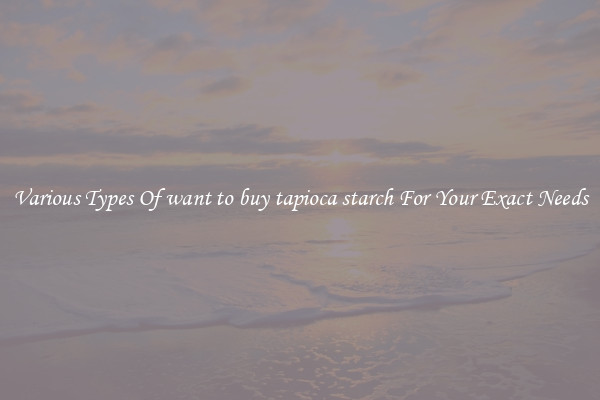 Tapioca starch is a versatile and widely used ingredient in various food products. It is a gluten-free alternative to wheat flour and is derived from the cassava root. Tapioca starch is known for its binding, thickening, and stabilizing properties, making it a popular choice in the food industry. If you are looking to buy tapioca starch for your specific needs, here are a few different types that you can consider:
1. Regular Tapioca Starch: This is the most commonly available type of tapioca starch. It has a neutral flavor and is typically used as a thickening agent in soups, sauces, and gravies. Regular tapioca starch creates a smooth texture and helps to give body to various dishes.
2. Instant Tapioca Starch: Instant tapioca starch is pre-cooked and then dried, allowing it to dissolve quickly when added to liquids. It is commonly used in the preparation of puddings, pies, and fruit fillings. Instant tapioca starch provides a smooth and creamy consistency to these desserts.
3. Pearls or Beads: Tapioca pearls are small, round beads made from tapioca starch. They are cooked and used in popular desserts like bubble tea, tapioca pudding, and boba drinks. These pearls have a chewy texture and are available in different sizes and colors.
4. Tapioca Flour: Tapioca flour, also known as tapioca starch flour, is finely ground tapioca starch. It is often used as a gluten-free alternative to wheat flour in baking recipes. Tapioca flour can be used to thicken sauces and soups, and also to add moisture to baked goods.
5. Modified Tapioca Starch: Modified tapioca starch has been chemically or physically altered to enhance its thickening and stabilizing properties. It is commonly used in the food industry for making processed foods, sauces, dressings, and frozen desserts. Modified tapioca starch helps to improve the texture and consistency of these products.
When purchasing tapioca starch, it is essential to consider the quality and source of the product. Look for reputable brands and read product labels to ensure that you are buying pure tapioca starch without any additives or preservatives. Additionally, consider the specific requirements of your recipes and choose the type of tapioca starch that best suits your needs.
In conclusion, tapioca starch is a versatile ingredient that can be used in a variety of dishes and desserts. Whether you need it for thickening, binding, or stabilizing purposes, there are various types of tapioca starch available to suit your exact needs. Regular tapioca starch, instant tapioca starch, tapioca pearls, tapioca flour, and modified tapioca starch are some of the options to consider. Choose the type that best matches your recipe requirements and enjoy the benefits of this gluten-free and versatile ingredient.